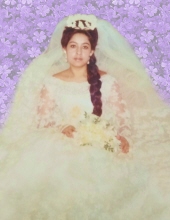 Obituary for Raquel Perez
Raquel was born in Guadalajara, Mexico and was the 7th child of 8. When she was young, times were tough. Therefore she was made to quit school after completing third grade, and became a staple part of the supporting household.
In 1964 she traveled to Washington State to visit her older sister Rosario. That took Raquel to a celebration where she met a soldier who became her soul mate, Jose L. Perez. The two were inseparable, married in January 1965 and she gave birth to their first child, Jose Jr. in December of the same year. They moved to Germany where they added a second child, Luis. Later they moved to Panama. In 1973, they finally returned to settle in Washington State and added their youngest child, Alberto.
Raquel and Jose enjoyed and sought out music and dancing events, as it was her passion and amazing talent. When she danced, it could stop a room and all eyes were on her!
Raquel was a tenacious and strong willed woman who embraced all of her family members with unwaivering love and compassion. She was kind and nurturing. Her family meant the world to her and she made extreme sacrifices for them.
She loved the color purple! She enjoyed to crochet, knit, and sew. She made beautiful clothing, blankets and ceramics for her family and for others. She picked out mold designs to bake in a kiln and she made amazing figurines. To her family's delight, she was an unparralled cook of Chef calibre. She was most comfortable in the kitchen where she made a feast out of just about anything. Her generosity extended to everyone in need, specially those less fortunate and she always made everyone feel welcome.
She started feeling ill in October 2017 but Doctors couldn't find anything wrong. In early March 2018, a biopsy showed pancreatic cancer. Her time was too brief but she was surrounded by her beloved family at her passing, as she always was there for them.
She is predeceased by her son Luis Alfredo Perez. She is survived by her loving husband Jose; their sons Jose Jr and Alberto (Michelle); her grandchildren Jose III, Brooke-Lin, Antonio, Claudia, Cruz and Isabella; her sister Rosario Olson, Maria De La Luc Gonzales; extended family and many friends.
Previous Events
Visitation
Fir Lane Memorial Park & Funeral Home
924 E. 176th. St.
Spanaway, WA 98387
rosary
Our Lady Queen of Heaven Church
14601 A Street South
Tacoma, WA 98444
funeral mass
Our Lady Queen of Heaven Church
14601 A Street South
Tacoma, WA 98444
A Graveside Service will follow.
reception
Our Lady Queen of Heaven Church
14601 A Street South
Tacoma, WA 98444
After the Graveside Service, there will be a reception back at the church.
Cemetery Details
Location
Fir Lane Memorial Park & Funeral Home
924 E. 176th. St.
Spanaway, WA 98387